This Is A Website Dedicated to Honor, Respect and

DEFEND

Michael Jackson.
Michael Joseph Jackson was born in Gary, Indiana, near Chicago, on August 29, 1958. He was the eighth of ten children in the Jackson family, a working-class African-American family living in a two-bedroom house on Jackson Street. His mother, Katherine Esther Jackson (née Scruse), played clarinet and piano, had aspired to be a country-and-western performer, and worked part-time at Sears.She was a Jehovah's Witness. His father, Joseph Walter "Joe" Jackson, a former boxer, was a crane operator at U.S. Steel and played guitar with a local rhythm and blues band, the Falcons, to supplement the family's income. Joe's great-grandfather, July "Jack" Gale, was a US Army scout; family lore held that he was also "a Native American medicine man".Michael grew up with three sisters (Rebbie, La Toya, and Janet) and five brothers (Jackie, Tito, Jermaine, Marlon, and Randy). A sixth brother, Marlon's twin Brandon, died shortly after birth.
In 1964, Michael and Marlon joined the Jackson Brothers—a band formed by their father which included Jackie, Tito, and Jermaine—as backup musicians playing congas and tambourine. Later that year, Michael began sharing lead vocals with Jermaine, and the group's name was changed to the Jackson 5. The following year, the group won a talent show; Michael performed the dance to Robert Parker's 1965 song "Barefootin'" and singing lead to The Temptations' "My Girl". From 1966 to 1968 they toured the Midwest; they frequently played at a string of black clubs known as the "Chitlin' Circuit" as the opening act for artists such as Sam & Dave, the O'Jays, Gladys Knight, and Etta James. The Jackson 5 also performed at clubs and cocktail lounges, where striptease shows were featured, and at local auditoriums and high school dances. In August 1967, while touring the East Coast, they won a weekly amateur night concert at the Apollo Theater in Harlem.The Jackson 5 recorded several songs for a Gary record label, Steeltown Records; their first single, "Big Boy", was released in 1968. Bobby Taylor of Bobby Taylor & the Vancouvers brought the Jackson 5 to Motown after the group opened for Taylor at Chicago's Regal Theater in 1968. Taylor also produced some of their early recordings for the label, including a version of "Who's Lovin' You". After signing with Motown, the Jackson family relocated from Gary to Los Angeles. In 1969, executives at Motown decided Diana Ross should introduce the Jackson 5 to the public—partly to bolster her career in television—sending off what was considered Motown's last product of its "production line". The Jackson 5 made their first television appearance in 1969 in the Miss Black America Pageant where they performed a cover of "It's Your Thing". Rolling Stone later described the young Michael as "a prodigy" with "overwhelming musical gifts" who "quickly emerged as the main draw and lead singer". In January 1970, "I Want You Back" became the first Jackson 5 song to reach number one on the US Billboard Hot 100; it stayed there for four weeks. Three more singles with Motown—"ABC", "The Love You Save", and "I'll Be There"—also topped the chart. The Jackson 5 were later described as "a cutting-edge example of black crossover artists." They were frustrated by Motown's refusal to allow them creative input. In 1975, the Jackson 5 left Motown. They signed with Epic Records, a subsidiary of CBS Records, and renamed themselves the Jacksons. Their younger brother Randy joined the band around this time; Jermaine stayed with Motown and pursued a solo career. The Jacksons continued to tour internationally, and released six more albums between 1976 and 1984. Michael, the group's main songwriter during this time, wrote songs such as "Shake Your Body (Down to the Ground)" (1979), "This Place Hotel" (1980), and "Can You Feel It" (1980).
Jackson's fifth solo album, Off the Wall (1979), established him as a solo performer and helped him move from the bubblegum pop of his youth to more complex sounds. It produced four top 10 entries in the US: "Off the Wall", "She's Out of My Life", and the chart-topping singles "Don't Stop 'Til You Get Enough" and "Rock with You".The album reached number three on the US Billboard 200 and sold over 20 million copies worldwide. In 1980, Jackson won three American Music Awards for his solo work: Favorite Soul/R&B Album, Favorite Soul/R&B Male Artist, and Favorite Soul/R&B Single for "Don't Stop 'Til You Get Enough". He also won a Grammy Award for Best Male R&B Vocal Performance for 1979 with "Don't Stop 'Til You Get Enough". In 1981 Jackson was the American Music Awards winner for Favorite Soul/R&B Album and Favorite Soul/R&B Male Artist. Jackson felt Off the Wall should have made a bigger impact, and was determined to exceed expectations with his next release. In 1980, he secured the highest royalty rate in the music industry: 37 percent of wholesale album profit.
One of the best selling albums of all time . At the 26th Annual Grammy Awards, Thriller won eight awards, while Jackson also won an award for the E.T. the Extra-Terrestrial storybook. Winning eight Grammys in one ceremony is a record he holds with the band Santana. Jackson and Quincy Jones won the award for Producer of the Year (Non-Classical). Thriller won Album of the Year (with Jackson as the album's artist and Jones as its co-producer), and the single won Best Pop Vocal Performance (Male) award for Jackson. "Beat It" won Record of the Year and Best Rock Vocal Performance (Male). "Billie Jean" won two Grammy awards: Best R&B Song and Best R&B Vocal Performance (Male), with Jackson as songwriter and singer respectively.Thriller also won the Grammy for Best Engineered Recording (Non Classical), acknowledging Bruce Swedien for his work on the album. At the 11th Annual American Music Awards, Jackson won another eight awards and became the youngest artist to win the Award of Merit. He also won Favorite Male Artist, Favorite Soul/R&B Artist, and Favorite Pop/Rock Artist. "Beat It" won Favorite Soul/R&B Video, Favorite Pop/Rock Video and Favorite Pop/Rock Single. The album collectively won Favorite Soul/R&B Album and Favorite Pop/Rock Album.
Jackson's first album in five years, Bad (1987), was highly anticipated, with the industry expecting another major success. It became the first album to produce five US number-one singles: "I Just Can't Stop Loving You", "Bad", "The Way You Make Me Feel", "Man in the Mirror", and "Dirty Diana". Another song, "Smooth Criminal", peaked at number seven. Bad won the 1988 Grammy for Best Engineered Recording – Non Classical and the 1990 Grammy Award for Best Music Video, Short Form for "Leave Me Alone". Jackson won an Award of Achievement at the American Music Awards in 1989 after Bad generated five number-one singles, became the first album to top the charts in 25 countries and the best-selling album worldwide in 1987 and 1988. By 2012, it had sold between 30 and 45 million copies worldwide. The Bad world tour ran from September 12, 1987, to January 14, 1989. In Japan, the tour had 14 sellouts and drew 570,000 people, nearly tripling the previous record for a single tour. The 504,000 people who attended seven sold-out shows at Wembley Stadium set a new Guinness World Record.
In 1991, Michael released his eighth album, Dangerous, co-produced with Teddy Riley. It was certified seven times platinum in the US, and by 2008 had sold 30 million copies worldwide. In the US, the first single, "Black or White", was the album's highest charting song; it was number one on the Billboard Hot 100 for seven weeks and achieved similar chart performances worldwide. The second single, "Remember the Time" peaked at number three on the Billboard Hot 100 singles chart. At the end of 1992, Dangerous was the best-selling album of the year worldwide and "Black or White" the best-selling single of the year worldwide at the Billboard Music Awards. Jackson was also the best-selling artist of the 1980s. In 1993, he performed "Remember the Time" at the Soul Train Music Awards in a chair, saying he twisted his ankle during dance rehearsals. In the UK, "Heal the World" made No. 2 on the charts in 1992.[166]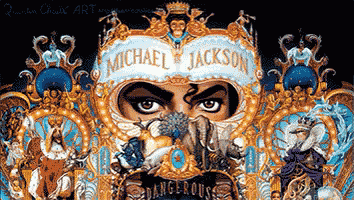 In June 1995, Jackson released the double album HIStory: Past, Present and Future, Book I. The first disc, HIStory Begins, is a greatest hits album (reissued in 2001 as Greatest Hits: HIStory, Volume I). The second disc, HIStory Continues, contains 13 original songs and two cover versions. The album debuted at number one on the charts and has been certified for seven million shipments in the US. It is the best-selling multi-disc album of all time, with 20 million copies (40 million units) sold worldwide. HIStory received a Grammy nomination for Album of the Year. The New York Times reviewed it as "the testimony of a musician whose self-pity now equals his talent". The first single from HIStory was "Scream/Childhood". "Scream", a duet with Jackson's youngest sister Janet, protests the media's treatment of Jackson during the 1993 child abuse allegations against him. The single made number five on the Billboard Hot 100, and received a Grammy nomination for "Best Pop Collaboration with Vocals". The second single, "You Are Not Alone", holds the Guinness world record for the first song to debut at number one on the Billboard Hot 100 chart. It received a Grammy nomination for "Best Pop Vocal Performance" in 1995. In 1995 the Anti-Defamation League and other groups complained that "Jew me, sue me, everybody do me/ Kick me, kike me, don't you black or white me", the original lyrics of "They Don't Care About Us", were antisemitic. Jackson released a version with revised words. "Earth Song" was the third single released from HIStory, and topped the UK Singles Chart for six weeks over Christmas 1995. It became the 87th-bestselling single in the UK.
01 Starlight
Michael Jackson
It's hard to find in this Lifetime an artist that not only captures true feelings and emotion with every stroke their pencil but also has such a loving and gentle personality but our very own Andrea Day has that very rare quality. Rea spends hours and sometimes days at a time capturing the true emotion and feeling of every single drawing. We here at MJMK are so proud and Privileged to have her as a Co-Owner!