This Is A Website Dedicated to Honor, Respect and

DEFEND

Michael Jackson.
Michael Joseph Jackson was born in Gary, Indiana, near Chicago, on August 29, 1958. He was the eighth of ten children in the Jackson family, a working-class African-American family living in a two-bedroom house on Jackson Street. His mother, Katherine Esther Jackson (née Scruse), played clarinet and piano, had aspired to be a country-and-western performer, and worked part-time at Sears.She was a Jehovah's Witness. His father, Joseph Walter "Joe" Jackson, a former boxer, was a crane operator at U.S. Steel and played guitar with a local rhythm and blues band, the Falcons, to supplement the family's income. Joe's great-grandfather, July "Jack" Gale, was a US Army scout; family lore held that he was also "a Native American medicine man".Michael grew up with three sisters (Rebbie, La Toya, and Janet) and five brothers (Jackie, Tito, Jermaine, Marlon, and Randy). A sixth brother, Marlon's twin Brandon, died shortly after birth.
In 1964, Michael and Marlon joined the Jackson Brothers—a band formed by their father which included Jackie, Tito, and Jermaine—as backup musicians playing congas and tambourine. Later that year, Michael began sharing lead vocals with Jermaine, and the group's name was changed to the Jackson 5. The following year, the group won a talent show; Michael performed the dance to Robert Parker's 1965 song "Barefootin'" and singing lead to The Temptations' "My Girl". From 1966 to 1968 they toured the Midwest; they frequently played at a string of black clubs known as the "Chitlin' Circuit" as the opening act for artists such as Sam & Dave, the O'Jays, Gladys Knight, and Etta James. The Jackson 5 also performed at clubs and cocktail lounges, where striptease shows were featured, and at local auditoriums and high school dances. In August 1967, while touring the East Coast, they won a weekly amateur night concert at the Apollo Theater in Harlem.The Jackson 5 recorded several songs for a Gary record label, Steeltown Records; their first single, "Big Boy", was released in 1968. Bobby Taylor of Bobby Taylor & the Vancouvers brought the Jackson 5 to Motown after the group opened for Taylor at Chicago's Regal Theater in 1968. Taylor also produced some of their early recordings for the label, including a version of "Who's Lovin' You". After signing with Motown, the Jackson family relocated from Gary to Los Angeles. In 1969, executives at Motown decided Diana Ross should introduce the Jackson 5 to the public—partly to bolster her career in television—sending off what was considered Motown's last product of its "production line". The Jackson 5 made their first television appearance in 1969 in the Miss Black America Pageant where they performed a cover of "It's Your Thing". Rolling Stone later described the young Michael as "a prodigy" with "overwhelming musical gifts" who "quickly emerged as the main draw and lead singer". In January 1970, "I Want You Back" became the first Jackson 5 song to reach number one on the US Billboard Hot 100; it stayed there for four weeks. Three more singles with Motown—"ABC", "The Love You Save", and "I'll Be There"—also topped the chart. The Jackson 5 were later described as "a cutting-edge example of black crossover artists." They were frustrated by Motown's refusal to allow them creative input. In 1975, the Jackson 5 left Motown. They signed with Epic Records, a subsidiary of CBS Records, and renamed themselves the Jacksons. Their younger brother Randy joined the band around this time; Jermaine stayed with Motown and pursued a solo career. The Jacksons continued to tour internationally, and released six more albums between 1976 and 1984. Michael, the group's main songwriter during this time, wrote songs such as "Shake Your Body (Down to the Ground)" (1979), "This Place Hotel" (1980), and "Can You Feel It" (1980).
Jackson's fifth solo album, Off the Wall (1979), established him as a solo performer and helped him move from the bubblegum pop of his youth to more complex sounds. It produced four top 10 entries in the US: "Off the Wall", "She's Out of My Life", and the chart-topping singles "Don't Stop 'Til You Get Enough" and "Rock with You".The album reached number three on the US Billboard 200 and sold over 20 million copies worldwide. In 1980, Jackson won three American Music Awards for his solo work: Favorite Soul/R&B Album, Favorite Soul/R&B Male Artist, and Favorite Soul/R&B Single for "Don't Stop 'Til You Get Enough". He also won a Grammy Award for Best Male R&B Vocal Performance for 1979 with "Don't Stop 'Til You Get Enough". In 1981 Jackson was the American Music Awards winner for Favorite Soul/R&B Album and Favorite Soul/R&B Male Artist. Jackson felt Off the Wall should have made a bigger impact, and was determined to exceed expectations with his next release. In 1980, he secured the highest royalty rate in the music industry: 37 percent of wholesale album profit.
One of the best selling albums of all time . At the 26th Annual Grammy Awards, Thriller won eight awards, while Jackson also won an award for the E.T. the Extra-Terrestrial storybook. Winning eight Grammys in one ceremony is a record he holds with the band Santana. Jackson and Quincy Jones won the award for Producer of the Year (Non-Classical). Thriller won Album of the Year (with Jackson as the album's artist and Jones as its co-producer), and the single won Best Pop Vocal Performance (Male) award for Jackson. "Beat It" won Record of the Year and Best Rock Vocal Performance (Male). "Billie Jean" won two Grammy awards: Best R&B Song and Best R&B Vocal Performance (Male), with Jackson as songwriter and singer respectively.Thriller also won the Grammy for Best Engineered Recording (Non Classical), acknowledging Bruce Swedien for his work on the album. At the 11th Annual American Music Awards, Jackson won another eight awards and became the youngest artist to win the Award of Merit. He also won Favorite Male Artist, Favorite Soul/R&B Artist, and Favorite Pop/Rock Artist. "Beat It" won Favorite Soul/R&B Video, Favorite Pop/Rock Video and Favorite Pop/Rock Single. The album collectively won Favorite Soul/R&B Album and Favorite Pop/Rock Album.
Jackson's first album in five years, Bad (1987), was highly anticipated, with the industry expecting another major success. It became the first album to produce five US number-one singles: "I Just Can't Stop Loving You", "Bad", "The Way You Make Me Feel", "Man in the Mirror", and "Dirty Diana". Another song, "Smooth Criminal", peaked at number seven. Bad won the 1988 Grammy for Best Engineered Recording – Non Classical and the 1990 Grammy Award for Best Music Video, Short Form for "Leave Me Alone". Jackson won an Award of Achievement at the American Music Awards in 1989 after Bad generated five number-one singles, became the first album to top the charts in 25 countries and the best-selling album worldwide in 1987 and 1988. By 2012, it had sold between 30 and 45 million copies worldwide. The Bad world tour ran from September 12, 1987, to January 14, 1989. In Japan, the tour had 14 sellouts and drew 570,000 people, nearly tripling the previous record for a single tour. The 504,000 people who attended seven sold-out shows at Wembley Stadium set a new Guinness World Record.
In 1991, Michael released his eighth album, Dangerous, co-produced with Teddy Riley. It was certified seven times platinum in the US, and by 2008 had sold 30 million copies worldwide. In the US, the first single, "Black or White", was the album's highest charting song; it was number one on the Billboard Hot 100 for seven weeks and achieved similar chart performances worldwide. The second single, "Remember the Time" peaked at number three on the Billboard Hot 100 singles chart. At the end of 1992, Dangerous was the best-selling album of the year worldwide and "Black or White" the best-selling single of the year worldwide at the Billboard Music Awards. Jackson was also the best-selling artist of the 1980s. In 1993, he performed "Remember the Time" at the Soul Train Music Awards in a chair, saying he twisted his ankle during dance rehearsals. In the UK, "Heal the World" made No. 2 on the charts in 1992.[166]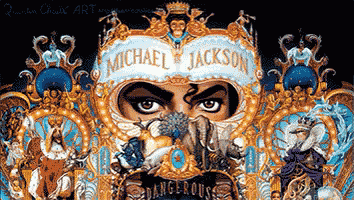 In June 1995, Jackson released the double album HIStory: Past, Present and Future, Book I. The first disc, HIStory Begins, is a greatest hits album (reissued in 2001 as Greatest Hits: HIStory, Volume I). The second disc, HIStory Continues, contains 13 original songs and two cover versions. The album debuted at number one on the charts and has been certified for seven million shipments in the US. It is the best-selling multi-disc album of all time, with 20 million copies (40 million units) sold worldwide. HIStory received a Grammy nomination for Album of the Year. The New York Times reviewed it as "the testimony of a musician whose self-pity now equals his talent". The first single from HIStory was "Scream/Childhood". "Scream", a duet with Jackson's youngest sister Janet, protests the media's treatment of Jackson during the 1993 child abuse allegations against him. The single made number five on the Billboard Hot 100, and received a Grammy nomination for "Best Pop Collaboration with Vocals". The second single, "You Are Not Alone", holds the Guinness world record for the first song to debut at number one on the Billboard Hot 100 chart. It received a Grammy nomination for "Best Pop Vocal Performance" in 1995. In 1995 the Anti-Defamation League and other groups complained that "Jew me, sue me, everybody do me/ Kick me, kike me, don't you black or white me", the original lyrics of "They Don't Care About Us", were antisemitic. Jackson released a version with revised words. "Earth Song" was the third single released from HIStory, and topped the UK Singles Chart for six weeks over Christmas 1995. It became the 87th-bestselling single in the UK.
01 Starlight
Michael Jackson
Born in 1958, Michael began engaging in philanthropic and humanitarian efforts while still a member of the Jackson Five and received early recognition by the time he was thirteen. His philanthropic efforts expanded and grew substantially as he stepped out as a solo artist. In December 1978, Jackson "spread Christmas joy among 200 youngsters at the Hollywood Children's Hospital", throwing them a party and giving away autographed posters. The Telegraph noted of Michael that "one of his earliest charitable ventures was in 1979, when he donated books, including Peter Pan, to the Chicago Public Library and promoted reading through a programme he called Boogie to the Book Beat". In July 1981, Jackson led a benefit concert at the Omni Auditorium in Atlanta, Georgia, raised $100,000 for the Atlanta Children's Foundation, to aid the poor children of the city in the wake of a string of child kidnappings and murders there. The Jacksons had originally been scheduled to perform a tour date in Atlanta on that day, but reworked the date into a benefit concert in light of the ongoing crisis.
Later on in the 1980s, Jackson was noted for his support for alcohol and drug abuse charities, and the Ad Council's and the National Highway Traffic Safety Administration's Drunk Driving Prevention campaign. Jackson allowed the campaign to use "Beat It" for its public service announcements. For his efforts in this area, he garnered praise from President Ronald Reagan, and was welcomed at the White House for a ceremony on May 14, 1984 at which Michael was presented with the Presidential Humanitarian Award.
The Victory Tour of 1984 headlined the Jacksons as a group, and showcased Michael's new solo material to more than two million Americans. It was the last tour he did with his brothers. Following controversy over the concert's ticket sales, Jackson donated his entire share of the proceeds, an estimated $3 to 5 million, to charity. Following an incident in 1984 in which Jackson received second and third degree burns to his scalp while filming a commercial for the tour's sponsor, Pepsi, he donated his $1.5 million settlement from Pepsi to the hospital where he had been treated, Brotman Medical Center in Culver City, California; its Michael Jackson Burn Center was named in his honor. Notably, even before this incident, Jackson had made multiple visits to patients in the burn unit and elsewhere in the hospital, stating that "it makes me feel good to cheer up sick and injured patients in the hospital". Jackson also donated funds from the Victory Tour to several charities, equipping a 19 bed unit at the Mount Sinai New York Medical Center, which is part of the T.J. Martell Foundation for Leukemia and Cancer Research, and enabling Camp Ronald McDonald for Good Times to build a year-round camp facility for children living with cancer.
His charitable work reached new heights with the release of "We Are the World" (1985), co-written with Lionel Richie, which raised money for the poor in the US and Africa. It earned $63 million, and became one of the best-selling singles of all time, with 20 million copies sold. The project's creators received two special American Music Awards honors: one for the creation of the song and another for the USA for Africa idea. Jackson, producer Quincy Jones, and promoter Ken Kragen received special awards for their roles in the song's creation. In 1988, it was described as "the humanitarian effort Michael considers his greatest personal triumph". Humanitarian themes later became a recurring theme in his lyrics and public persona.
From 1985 to 1990, Jackson made substantial donations to the United Negro College Fund (UNCF), endowing $1.5 million to that organization in 1986 to set up the "Michael Jackson UNCF Endowed Scholarship Fund", aimed toward assisting students majoring in performance arts and communications, with money given each year to students attending a UNCF member college or university. Another benefit concert held by Jackson later in the decade brought an estimated $500,000 more for UNCF scholarships.
Yoshiaki Ogiwara, a five-year-old boy from Takasaki, Gunma, Japan, was kidnapped and murdered in September 1987; Jackson was undertaking his "Bad" tour in Japan at the time, and dedicated concerts in Osaka and Yokohama to Yoshiaki's memory, and the single sleeve for "Man in the Mirror", released in February 1988, contains a dedication to Yoshaiki. All profits from that single, the fourth consecutive number one single from Jackson's album, Bad, also went to the charity Camp Ronald McDonald for Good Times, of which Jackson had previously been one of the "Founding Fathers".
While on tour in November 1987, Jackson made a surprise visit to the Royal Children's Hospital in Melbourne, Australia, "armed with handfuls of autographed programs and T-shirts", a visit described by hospital staff as "an incredible tonic" for the many terminally ill young patients. Jackson's vocal coach Seth Riggs noted that Jackson would arrange to have sick children brought to his concerts, stating: "Every night the kids would come in on stretchers, so sick they could hardly hold their heads up. Michael would kneel down at the stretchers and put his face right down beside theirs so that he could have his picture taken with them, and then give them a copy to remember the moment". At a number of tour stops, Jackson would also visit with patients at a local children's hospital, and make a substantial donation to the facility. In May 1988, while touring in Rome, Jackson visited children suffering from cancer in the Bambino Gesù Hospital, also donating 100,000 pounds sterling to the hospital.[2] Later that year, following another tour appearance at Wembley Stadium in England, Jackson presented Prince Charles and Princess Diana with a donation of $450,000 for The Prince's Trust, designated for the Great Ormond Street Children's Hospital, described as "a favorite charity of Jackson's". He also visited two wards of that hospital while on that trip.
In February 1989, a few weeks after a mass shooting at the Cleveland Elementary School in Stockton, California resulting in the deaths of five children and the wounding of dozens more, Jackson visited the school and met with some of the children affected by the event.
In 1992, Jackson established the Heal the World Foundation as a charitable organization, inspired by his single of the same name. Jackson also continued to make charitable donations and participate in causes outside of the foundation. Following the 1992 Los Angeles riots, "Jackson donated $1.25 million to start a health counseling service for inner-city kids".
Following the death of HIV/AIDS spokesperson and friend Ryan White in 1993, Jackson used his celebrity to bring global attention to the AIDS epidemic, notably through his friendship with Ryan and his charitable efforts with Elizabeth Taylor. Michael also pleaded with the Clinton administration at Bill Clinton's inaugural gala to give more money to HIV/AIDS charities and research, and performed "Gone Too Soon", a song dedicated to White, and "Heal the World" at the gala. In January 1994, Jackson "opened his Neverland Ranch in a Martin Luther King's Birthday celebration for 100 inner-city children who excelled in school". In 1995, after reading newspaper accounts of the death of a 22-month-old boy, Jackson was moved to donate an undisclosed amount to a fund for the family set up under the auspices of the St. Mary Medical Center in Long Beach, California. An early supporter of gay rights, in February 1997, Jackson donated a HIStory Tour jacket and an autographed souvenir book for a fundraising auction in support of Hawaii's first Gay and Lesbian Cultural Festival.
In the 1990s, Jackson continued to visit children's hospitals and similar institutions, and sometimes individual sick or injured children. For example, in May 1992, Jackson visited a 7-year-old girl who had been mauled by Rottweilers two months before, having telephoned to promise this visit while she was still in the hospital. While touring in 1996, Jackson visited orphanages in Tokyo and Prague, the latter during his HIStory World Tour.
In June 1999, Michael put together two charity concerts dubbed MJ & Friends. The first was held in Seoul, South Korea and the second in Munich, Germany. Several other performers took the stage in addition to Jackson and the concerts raised monies to benefit Nelson Mandela's Children Fund, and children's charities in Kosovo and elsewhere. Originally, two additional concerts were planned, but they had to be cancelled due to an injury Jackson sustained during the concert in Munich when, during his performance of "Earth Song", a section of the bridge he was standing on collapsed. He climbed out of the pit that the mechanism landed in and continued the performance, but had to be taken to the hospital when his performance ended and he left the stage.
Heal the World Foundation
The purpose of the Heal the World Foundation (HTWF) was to provide medicine to children and fight world hunger, homelessness, child exploitation and abuse. Jackson stated that he wanted "to improve the conditions for children throughout the world". The foundation also brought underprivileged children to Jackson's Neverland Ranch, located outside Santa Ynez, California, to go on theme park rides that Jackson had built on the property after he purchased it in 1988. It also sent millions of dollars around the globe to help children threatened by war, poverty, and disease. Through his foundation, Jackson airlifted 46 tons of supplies to Sarajevo, instituted drug and alcohol abuse education and donated millions of dollars to disadvantaged children, including the full payment of a Hungarian child's liver transplant.
Part of the proceeds of the Dangerous World Tour, which ran between June 1992 and November 1993 and grossed $100 million, went to Heal the World Foundation. The Dangerous World Tour began on June 27, 1992, and finished on November 11, 1993. Jackson performed to 3.5 million people in 69 concerts. All profits from the concerts went to the "Heal the World Foundation", raising millions of dollars in relief.
At the National Football League's Super Bowl XXVII, Jackson performed several songs, including his anthem "Heal the World", to help promote the organization with the assistance of a choir of 750 people and a flash card display involving 98,000 volunteers. Jackson donated his entire fees for the performance to the foundation, with the NFL also donating $100,000 and a 30-second TV spot to push for contributions. Following the Super Bowl, Jackson ran a full-page advertisement in the newspaper USA Today, providing a toll-free number. A coupon was provided that could be clipped and mailed in along with a contribution. Those donating $35 or more were given a "Heal the World" T-shirt. The environmental themed music video for the 1995 single "Earth Song" closed with a request for donations to Jackson's foundation.
In February 2001, Jackson launched Heal the Kids, an initiative of HTWF and part of the foundation's attempt to boost children's welfare.[54] Jackson launched the charity initiative, stating, "Heal the Kids will help adults and parents realize it's in our power to change the world our children live in".[55]
Jackson gave a speech at Oxford University about raising children, as part of the launch of his "Heal the Kids" initiative. In the speech, Jackson spoke rhetorically of his children, "What if they grow older and resent me, and how my choices impacted their youth?...Why weren't we given a normal childhood like all the other children? And at that moment I pray that my children will give me the benefit of the doubt. That they will say to themselves: Our daddy did the best he could, given the unique circumstances he faced. I hope that they will focus on the positive things, on the sacrifices I willingly made for them...". Journalist J. Randy Taraborrelli concluded that Jackson's performance during the speech was "absorbing" and well received.[56]